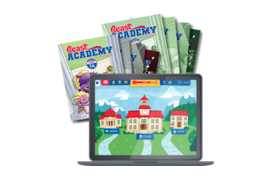 Try out Beast Academy Online—now $5 off!
Introduce your child to the joy of math with Beast Academy Online.
BA Online is a complete math program for aspiring math beasts in grades 2–5 that emphasizes critical thinking and problem-solving skills.
BA Online includes:
A full math curriculum for grades 2–5 with over 800 lessons
More than 15,000 problems, including puzzles, games, word problems, and skill drills
Digital versions of the Guide books for grades 2–5
In-depth reporting on student progress and activity
Beast Academy Guide and Practice books are also available in print.
Interested in BA Online for your child?
Let us email you a free coupon today!